Perfection / Speculation in conversation with Natasha Vita-More
photo Katharina Gellein Viken & Charles Kriel



Adam Peacock is a post-disciplinary artist, designer and researcher working at the intersection of Architecture, Fine-Art, Sculpture, Fashion, and Computer-Science. Adam uses visual media to provoke dialogue across industries, perspectives, and ideologies on where we want the future of technology to take us and how emerging technologies affect human behaviours.
Drawing upon practices and methodologies in fashion, architecture, visual art, consumer psychology, genetic technology, and social anthropology, his works explore human experience within an infinitely complex new media age.
Works developed through mediums ranging from engineering blueprints, digital body scanning, videography, and meta-body representation within augmented and virtual environments. Over the past nine years (2014-), a series of designed experiments have formed a research lens entitled 'The Validation Junky'.
Since 2014, his wide-ranging shows and work - featuring video installations, large-format illustrations, lectures, workshops, sculptures and photography - have appeared in major museums, galleries, scientific forums and educational institutions worldwide, including Arebyte Gallery London (2014), the Visible Futures Lab, School of Visual Arts New York City (2015), Royal College of Art London (2015), Architectural Association London (2016), London College of Fashion (2016), Fashion Space Gallery London (2017), Fashion Clash Festival Maastricht (2018), Melbourne School of Design, University of Melbourne (2018), Science Gallery Melbourne (2018), Science Gallery Dublin (2019), Southern California Institute of Architecture (SCI-Arc) Los Angeles (2020), Art Centre Los Angeles (2020), School of International Art Beijing (2020), Mariam Dawood School of Visual Arts & Design Lahore (2020), Ars Electronica Linz Austria (2021), The Vigeland Museum Oslo (2021), Bartlett School of Architecture London (2022), Tecnológico De Monterrey Mexico City (2022-23), Yam Gallery Mexico City (2023), Royal Scottish Academy Edinburgh (2023), ISDI Condé Nast College Americas Mexico City (upcoming), RAM Galleri Oslo (upcoming).


In Peacock's work, the viewer becomes the participant. He developed his deep understanding of audience engagement through over ten years of hybrid practice, working in architecture, teaching future fashion concept, consulting with brands, and creating experiments through designed interactions and environments.

As a Visiting Professor at the School Of International Art Beijing, Peacock leads the Future of Fashion, Identity and the Metaverse Masterclass (2020- present). As an Associate Lecturer at the London College of Fashion, Peacock taught the Speculative Prototyping unit (2016-20). As Studio co-founder, he co-led the Fashion / Architecture Lab 'DNA of Perfection' at the Melbourne School of Design, University of Melbourne (2018-19). He is a graduate of the Royal College of Art, Bartlett School of Architecture UCL and Central Saint Martins, University of the Arts London.

He has designed for Amanda Levete Architects, Heatherwick Studio, WilkinsonEyre and consulted for Audi, FIAT, NEOM Saudi Arabia, Stella McCartney, and the Science Gallery Network amongst others.

Genetics Gym Development,
photo John Duff
"It's an interesting moment to be an artist and designer, economically speaking. I believe that the most relevant contemporary artists, architects and designers of our time will not just investigate the buildings, objects, clothes, cars we use, but the technological infrastructures that we inhabit, psychologically and culturally.

When we start to confront these design realms, it's important to have the perspective to understand that what you might consider perfect, ideal or utopian might well be another person's dystopia.

This is particularly interesting when you start to consider the possibilities of synthetic biology, genome editing, and artificial intelligence. I believe that these conversations, through artistic design processes, whether architectural, fashion, or industrial, will be some of the most important design challenges of our time"

Excerpt taken from an interview with Melbourne School of Design available here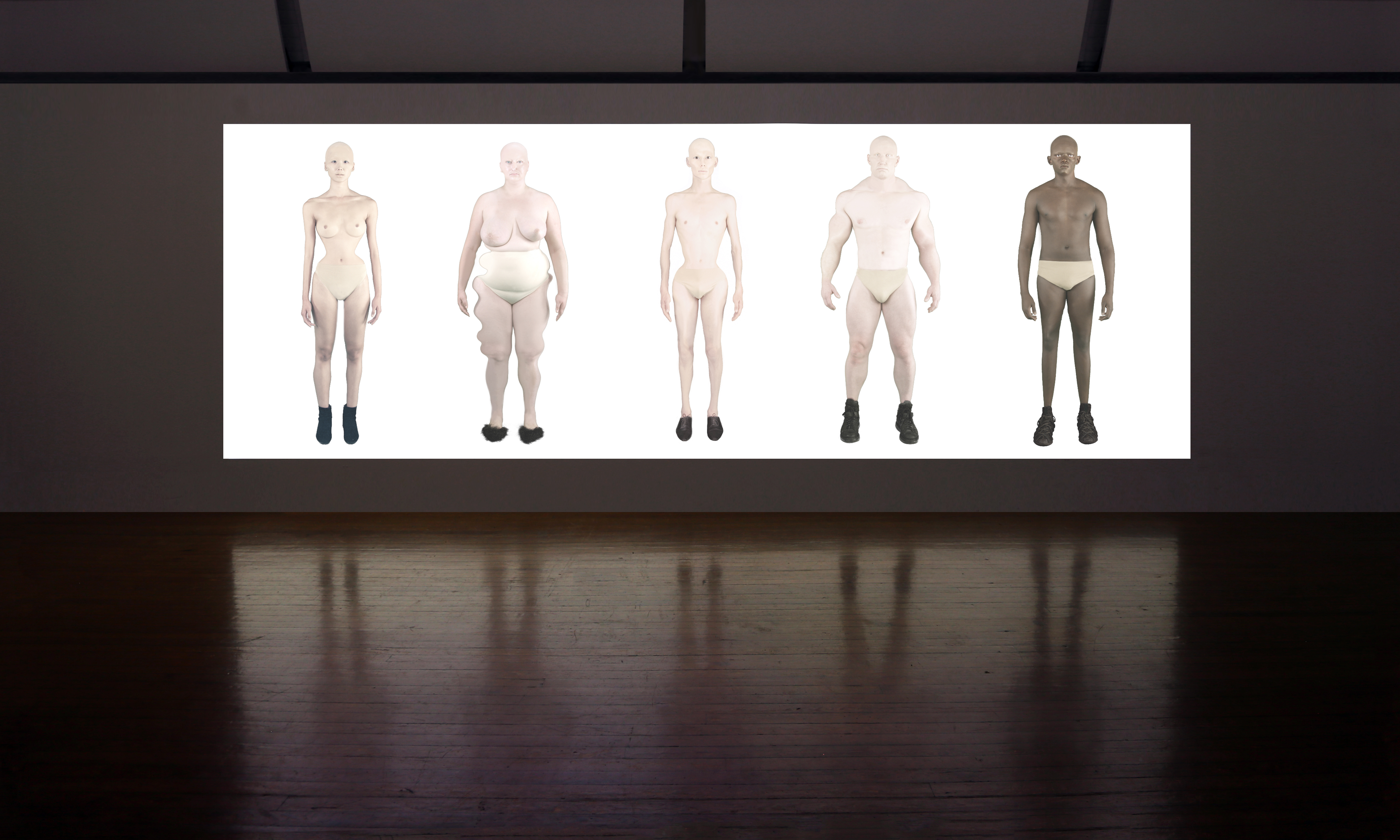 Genetics Gym
commissioned by the Fashion Space Gallery